New Jersey Online Poker
Poker is a classic card game that is popular for being more reliant on skill than luck. It's full of suspense and elaborate plays—rich in strategy, calculation, and psychology. Almost anyone can play poker in New Jersey. The rules of poker are easy to learn. However, the game itself takes time to master.
In 2009, Joe Cada went from being a regular online poker player to becoming the youngest winner of the World Series of Poker (WSOP) at the age of 21, earning a grand prize of $8,547,042. Before his landmark tournament victory, he won up to $500,000 in earnings from online games.
Getting Started with Online Poker in New Jersey
First of all, you should know that there are different types of poker games available on NJ online poker sites. Potential players will find everything, ranging from stud games and community card games to draw games.
Stud games involve each player getting several cards to make the best hand, while community card games have shared cards placed face-up in the middle of the table and personal (hole) cards and players have to make the best of all the cards. When playing draw cards, players may discard some cards and draw new cards to make a better hand.
The popularity of poker (despite its simple complexities) may stem from the competition, convenience, high-stake cash games, respect for skills, legality in some states, or its popularity in the media, like the rare hand of a certain Bond, James Bond.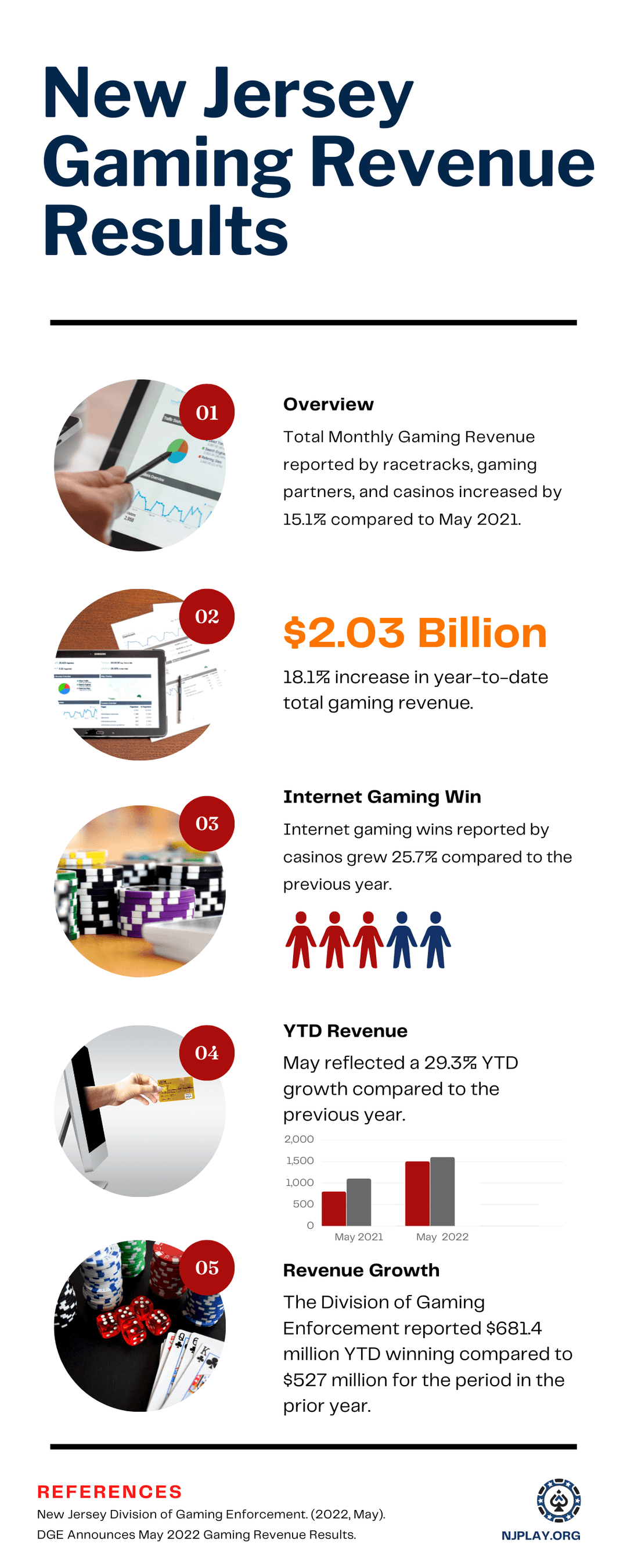 How Do I Find a Safe New Jersey Poker Site?
There are several ways to find out if a poker site is safe for players. Online poker players in New Jersey can:
Ensure the site is regulated : The New Jersey Division of Gaming Enforcement (NJDGE) regulates most online poker sites in New Jersey. Online poker players must ensure due diligence to ensure their chosen platform is licensed and regulated by a commission.
Check online reviews : Players can find safe poker sites in New Jersey offering cash games by reading online reviews. A quick search of the poker site name may reveal experiences from other players while using the platform.
Can I Play at More than One New Jersey Online Poker Site?
Yes. Players can play on more than one New Jersey Online poker site. It is a common practice among online poker players with pros and cons:
Pros
Enjoy multiple site rewards
Access to a variety of poker games
Non-stop action of games or tournaments
Cons
Requires more money to fund several accounts for cash games
Difference in quality of play across multiple sites
Will Poker Sites Let Me Cash Out When I Win?
Yes. Most licensed New Jersey online poker sites allow players to cash out when they win. However, some poker sites have anti-fraud systems that delay withdrawals on account within 48 hours of making deposits for cash games.
Do I have to Download Software to Play New Jersey Poker Online?
No. Some poker sites allow players to play New Jersey online poker games without downloading software. However, some poker sites may require players to download software before playing on the platform.
Can I Play Online Poker with a Mac, my Phone, or Tablet?
Yes. Poker players can enjoy online poker in NJ on phones, Mac, or tablets. Most popular poker sites in New Jersey are compatible with different devices. Also, players can opt for the instant play option that allows them to access games from the browser.
Do I Have to Use a Credit Card to Play New Jersey Online Poker?
No. Players can opt not to use their credit cards to play online poker in NJ. Online gaming providers usually provide different options for players to deposit and withdraw.
For instance, Borgata Poker NJ provides alternatives to depositing and withdrawing with credit cards. Some listed options include PayPal, Play+ (Borgata online prepaid), and PayNearMe.
For instance, PayNearMe allows players to fund their Borgata online account with cash at local stores like 7-Eleven.
Is NJ Online Poker Money real money?
Yes, poker money is real money. New Jersey is one of the five states in the United States that allows players to play legal online poker for real money. Some of the online poker room sites that offer legal online poker for real money include:
Is it Safe to Play Online Poker for Real Money in NJ?
Yes, it is safe to play online poker for real money in New Jersey. The New Jersey Division of Gaming Enforcement (NJDGE) ensures all online gaming providers are licensed and regulated in the state.
Why Choose to Play Online Poker in New Jersey?
Some of the following reasons players choose to play online New Jersey Poker nclude:
24/7 Game Time
Convenience
Variety of Poker Rooms
Variety of Deals and Bonuses
24/7 Game Time
With online poker, players can enjoy uninterrupted games all day. Players get to choose their preferred time to play without bothering about opening or closing hours.
Convenience
Since the introduction of online games in New Jersey, poker players can now enjoy games and join tournaments from the comfort of their homes. No need for trips to the casino or queues at poker rooms. With an internet-connected device, poker players can enjoy the best of online poker in New Jersey right from their homes.
Variety of Poker Rooms
Online poker allows players to join multiple poker rooms. Before now, players could only play at one table at a time. These days, players can play at different tables simultaneously because it is virtual.
Variety of Deals and Bonuses
Due to the increasing number of online gaming sites, players choose online poker because of the rewards. Most of the online gaming providers in New Jersey offer different kinds of bonuses and deals to attract players.
What to look for when searching for NJ Online Poker?
One of many things poker players look out for when searching for online New Jersey poker is the site's credibility. With over a dozen online poker sites, players must ensure it is safe to play on any platform.
Typically, the New Jersey Division of Gaming Enforcement (NJDGE) provides licenses and regulates all online gaming activities in the state. In addition, below are some of the things to consider when searching for the right online poker site:
Deposit and Withdrawal Options
How to make deposits and withdrawals is top of the list of concerns when searching for online poker rooms. Most times, online gaming operators in New Jersey list the various deposit and withdrawal methods on their sites.
Players must consider the convenience of making deposits or withdrawals as well as the charges applicable on different transactions. Some of the common payment methods include online bank transfer (ach/e-check), online payment providers, credit or debit cards, prepaid cards, and paying in cash with retail partners.
User Experience
Another way to choose from the mass options of online poker sites in NJ is to consider the platform's overall user experience. Get reviews from other players on how easy it is to use the oninsite.
For instance, the site's interface plays a huge role in shaping a user's experience. Also, another user experience concern is how quickly the casino's customer support department resolves issues and complaints.
Device Compatibility Payouts
Players must look out for online poker rooms that are compatible with their devices like desktops, tablets, or mobile. Online gamers can enjoy the best casino games on the go and receive payouts easily.
What are the Advantages of Playing Poker Online?
Online poker has several advantages over live poker, especially in these areas:
Convenient:
Online poker lets players play from anywhere, at any time. NJ online poker sites are available around the clock. Players do not need to travel or leave their homes to play in a real money online poker room. Additionally, online poker is also ideal for persons who want to avoid social settings whether for comfort or to avoid having poker tells read. Furthermore, online gaming features make it easier for players to track plays, statistics, and actions at the tables.
Arguably the most popular poker variation on NJ online poker sites is Texas Hold 'Em, a community card game. Other variants include Omaha, Seven-card Stud, Five-card Draw, and Triple Draw
Suitable for beginners:
Compared to live poker games in casinos and card rooms, online poker is a better option for beginners to ease into the game and get experience before diving into high-stakes cash games. The low-limit tables also help beginners play without incurring great losses.
More options:
Players can find more poker variants to play online than in most live locations, and all these options are available in one place. With this, you can escape the monotony of one game and explore different games to find one that suits you more.
Benefits:
Online poker offers players deals, packages, real money poker bonuses, and free credits. This increases a player's funds and chances of making more money. There are also other non-monetary rewards like free tournament tickets, which brings us to the next advantage:
Events
There are online poker tournaments just like there are live poker tournaments. For instance, the Spring championship of online poker is a popular draw. As is the New Jersey Championship of Online Poker or World Poker Tour. Freerolls, a tournament with no entry fee but prize pools, are also available to new players.
Comparison of the Top Online Poker Casinos in New Jersey.
Following the legalization of online gambling in 2013, New Jersey has become one of the biggest markets for online poker. New Jersey boasts a thriving and competitive environment, one that's home to several real money sites which operate on several networks.
Unsurprisingly, most players have varying views on what the best online poker sites are, based on the top features, how they work, and the different offers and bonuses.
Top 5 U.S Casinos By Poker Table Counts (October 2019)
Commerce Casino, California
Hawaii Gardens Casino, California
Encore Boston Harbor, Massachusetts
Borgata Hotel Casino and Spa, New Jersey
BestBet Poker, Florida
WSOP.com
The World Series of Poker online site is a popular destination with players. It operates on the All-American Poker Network and grew in prominence and popularity majorly because of its association with the World Series of Poker tournaments.
The WSOP site benefits from internet gaming traffic from all the sites on the All-American Network in all the states it covers, meaning players should always be available. This is possible because New Jersey, Las Vegas, and Delaware signed a player share agreement that permits poker sites on the same online poker networks operating in these states can share a player pool.
Why Play at WSOP?
The WSOP site offers various bonuses, cash games, and promotions for new and returning players using promotion codes. New players who register an account on the online poker site will get a $10 bonus on sign-up and $50 on their first deposit.
The internet gaming site will also 100% match a new player's first deposit up to $1000. The bonus is kept in a separate account and released in increments as a player earns Action Player Points(APP) when they play real money games. Other selling points include:
Loyalty program called poker rewards
Earned loyalty points can be further exchanged for cash prizes.
888 Poker
888 poker was one of the first online poker rooms to begin operations in New Jersey when online poker was legalized. It is part of the All-American poker network along with the World Series of Poker's Online poker website.
Why Play at 888 Poker?
888 poker offers several different promotions, user bonus codes, and deposit or non-deposit bonuses for new players. New players who register on 888 Poker will get a non-deposit bonus of $20, $4 for cash poker games, and 6 $1 tournament tickets. The other $10 must be used for other casino games. The 888 poker room also 100% matches a new player's first deposit up to $1500. Other top features include:
Tier-based loyalty program
Wide selection of poker games
Cash games and tournaments for Stud, Omaha, and Texas Hold Em
Downloadable mobile application (IOS and Android devices)
Multiple options for deposits and withdrawals.
BetMGM Poker
BetMGM Poker is the online poker room of the MGM resorts brand. It was launched in partnership with the Borgata Hotel and Casino in New Jersey's Atlantic City. Joining the BetMGM poker room is a very quick and easy process and the site offers a lot of promotions and bonuses for new players. By using the exclusive BetMGM code new players can take advantage of the no deposit welcome bonus.
Why Play at BetMGM Poker?
BetMGM Poker NJ has a wide variety of cash games including different types of Omaha, Hold Em, and Stud. These benefit from the shared player pools with the other poker rooms on the network making it easy to find games. Other highlights of the online poker site include
Sit-and-go competitions and weekly multi-table tournaments
Desktop BetMGM poker application that runs on Windows or Mac operating systems o
Mobile option for devices running IOS or Android.
Flexible deposit options, including credit cards, Skrill e-wallet
Borgata Poker
A key player in the NJ online poker market, Borgata online poker is the online poker arm of the Borgata Hotel, Casino, and Spa which is owned by MGM resorts. It was one of the first NJ online poker sites to receive a license from the New Jersey Division of Gaming Enforcement when online poker was legalized.
Borgata runs on the same network as BetMGM and other MGM-owned properties. They all make use of the same online gambling software managed by GVC Holdings and this allows them to share player pools across all the poker sites.
Why Play at Borgata Poker?
Borgata Poker NJ offers a lot of use bonus codes and promotions for new and old players alike. New players can obtain a $25 no deposit bonus with a bonus code when they first sign up on Borgata Poker NJ. This is split between poker bonus funds for playing poker games and cash that can be used however a layer wants.
New players will also receive a 100% match of their first deposit up to $1000 when they use the promo code. Other attractions include:
An iRewards loyalty program where players acquire redeemable reward points
A good variety of poker games including some lesser-known variants.
Available applications for both desktop devices and IOS and Android devices
Flexible deposit options including American Express, Bill Pay, PayPal, and Skrill
PokerStars NJ
PokerStars NJ is one of the most popular and well-established online poker brands in the world. It formally entered the New Jersey Online poker market in 2013. Unfortunately, it is not connected to the worldwide network so players can only play with other players in New Jersey in their player pool. Despite this, its international experience managing poker rooms around the world make it almost a must-have for online gambling poker fans in New Jersey.
Why Play at PokerStars NJ?
Players who register a new account on Pokerstars NJ are entitled to bonuses and promotions which help to enhance their experience. When a new player creates an account, signs in, and plays one hand in a cash game, PokerStars NJ provides a $50 free play bonus. The bonus is usually in the form of 3 gift boxes containing several cash tickets and spin-and-go tickets worth $5 and $10 each.
An attractive loyalty program
Variety of cash games such as Texas Hold Em, Omaha, and Stud
Multiple sit-and-go tournaments and multi-table tournaments
PokerStars NJ provides a downloadable Windows and macOS app
PartyPoker NJ
Hosts of the New Jersey championship of online poker, PartyPoker New Jersey was one of the world's earliest and biggest online poker sites originally starting up in 2001. It shut down operations in New Jersey and North America after the Unlawful Internet Gaming act was passed in 2006.
When online poker was legalized in New Jersey in 2013, Party Poker became one of the first online poker sites to launch. PartyPoker NJ is owned by GVC Holdings and is partnered with Borgata Hotel, Casino, and Spa, this allows it to take advantage of their shared player pool. Its international experience allows it to provide a fun experience for recreational, new, and professional players alike.
Why Play At PartyPoker?
PartyPoker NJ offers new and returning players a variety of bonuses and promotions to attract new players and enhance current games. Alongside regulated online poker rooms, PartyPoker NJ also offers other promotions like the Sunday Click and Win and the Weekly Reload Bonus based on a player's weekly deposits and play history. Other perks include:
Loyalty program or VIP program rewards regular layers
PartyPoker NJ offers different variants of Hold Em, Stud, and Omaha
Major annual poker tournaments
User-friendly desktop interfaces
Support for mobile applications on both IOS and Android devices.
Pala Poker Online
Pala Poker Online was opened in 2017 and is the newest poker room to come online in New Jersey. It is operated by Pala Interactive which is the digital arm of the Pala Spa and Casino based in California and owned by the Pala Mission Indians.
Unlike most of the other poker rooms in New Jersey, which are partnered on software or with online poker networks to increase player pools, Pala Poker operates on its own. It operates its own in-house developed software platform on its own network and is fully licensed and regulated by the NJ Division of Gaming Enforcement.
Why Play at Pala Poker?
Pala Poker NJ offers a decent variety of bonuses and promotions via promotion codes. New players on the site get a no deposit bonus of $25 free when they register on the site. The $25 bonus is divided into $15 for use at the Pala Online Casino and $10 for use in Pala Poker Online tournaments.
New players will also have their first deposit of up to $500 matched 100% by Pala Poker NJ. The bonus cash is redeemed in $5 increments for every 1250 status points the player earns playing games on the site. Status points are earned in the poker room at the rate of 50 points for every $1 a player pays in tournament fees or game rakes. Other attractions include:
A tier-based system where players use status points earned playing games
Sit-and-go tournaments and low-stakes multi-table tournaments
Desktop client, a browser-based client, and a mobile application.
Consumer Spending on Poker from 2005 to 2009
What is Considered a Winning Hand in NJ Online Poker?
There are different ways to win in poker as there are several variations with flexible rules. However, the most popular poker variations use hand ranking to determine the winning hand. Hand ranking in NJ online poker is a categorization of hands determined by the cards' value or pattern.
For instance, having a hand with five cards of the same suit (clubs, spades, hearts, or diamonds) is higher than having two queens in a hand of five cards. The former hand is called a flush and the latter is called a pair.
The goal of a poker game is usually to get the best possible hand, which may be the highest or lowest hand, depending on the game.
In most cases, the highest-ranking poker hand wins like in Texas Hold 'Em, Omaha, and Seven-card Stud.
However, some lowball games have different definitions of a winning hand like High-low Chicago, which divides the pot into two; half for the highest hand and half for the highest Spade hole card (player's card dealt facedown).
Other examples of lowball games that players might find on an online poker site include 2-7 triple draw, Razz, and California lowball.
How are Points Calculated in Poker?
The following are poker hand rankings from the lowest to the highest:
High card
When there are no connecting patterns, suit, or similar card values in a hand. No two cards in a hand have the same value or the 5 or more cards are not arranged in order. Example of this hand is Queen♠ 8♥ 6♣ 3 ♥ and 2♦.
One pair
A hand that contains two cards of similar value and three other cards that do not connect in any way, for example, 8♣ 8♦ 2♣ K♣ 4♠.
Note: If there are two players with pairs, the higher value wins. A pair of twos is the lowest and a pair of aces is the highest.
Two pairs
This is similar to the above except that there are two paired combinations, for instance, 8♣ 8♦ 2♣ 2♥ 4♠. There are also weak pairs and high pairs depending on the card value.
Three of a kind
This hand contains three cards of a similar value, such as 5♣ 5♥ 5♦ J♦ 7♥. Higher values are used to determine winners if there are two players with this hand ranking.
Straight
A hand where five cards of different values and suits are arranged in an order. Each straight is ranked by the highest card value, so a hand of 8♠ 9♣ 10♦ J♥ Q♣ is a Queen-high straight, which beats a 10-high straight 6♥ 7♣ 8♠ 9♣ 10♦.
Note: Ace cards can either be the highest or lowest card in a straight, but no wraparounds are allowed. Hence, an ace cannot be the middle card like in J♠ Q♣ K♦ A♥ 2♦.
Flush
A hand that has 5 cards of the same suit, regardless of the card value or order, such as 3♥ 5♥ 9♥ 10♥ K♥. Each flush hand is ranked by the highest card so a king-high flush like in the example can only be trumped by an ace-high flush.
Full house
Also known as a boat or full boat, this hand consists of one pair and three of a kind. For instance, a hand of 5♣ 5♥ 5♦ 8♣ 8♦ is a full house, fives over eights.
Each full house is ranked according to the value of the triplet and then of the pair. So, if two hands have the same three-of-a-kind rank, the hand with the higher pair wins. Therefore, a hand of 5♣ 5♥ 5♦ 9♥ 9♠ trumps the hand in the example.
Four of a kind
This hand contains four cards of a similar value, such as A♣ A♥ A♦ A♠ 3♥. The player with the higher value of quadruplet wins if there are two players with this hand ranking and if the quadruplets are the same value the remaining card (kicker) determines the win.
Therefore, A♣ A♥ A♦ A♠ 8♥ trumps 9♣ 9♥ 9♦ 9♠ 3♥, but A♣ A♥ A♦ A♠ K♥ beats A♣ A♥ A♦ A♠ 8♥.
Straight flush
This hand consists of both a straight and a flush. Hence, the cards are arranged in order (straight) and of the same suit (flush), such as 3♣ 4♣ 5♣ 6♣ 7♣. Wraparounds are also invalid, and each straight is ranked according to the highest card, which brings us to…
Royal flush
This is a straight flush with an ace as the highest hand, such as 10♦ J♦ Q♦ K♦ A♦. This is the highest natural hand rank – when there are no wildcards.
Five of a kind
This is possible when playing with wildcards and is the highest hand with five aces being the highest of all. Since there are only four suits in poker, the fifth card is usually the wildcard – a joker – which is included in the hand to represent the missing card.
A five of a kind hand looks like A♣ A♦ A♠ A♥ and Joker.
Knowing what hand beats what is necessary for poker, as hand ranking is one of the common elements across the number of poker variations.
What are the Rules to Play Poker Online?
Rules for playing New Jersey online poker may vary depending on the variant. However, general rules to note when surfing New jersey online poker sites include:
Objective
Since there are many poker variations, it is important to know the goal of the game before playing. Conveniently, a casino's poker interface often shows the player's current hand ranking, lists all card rankings on the site, and decides winners automatically, so players can play in the fast-paced environment without feeling lost.
Actions
The key actions in any NJ online poker game are bet, raise, call, fold, and check. To bet is to put money (chips) in the pot and raising a bet means increasing the wager made by a player.
Calling a bet means matching another person's bet, while to fold means to surrender the pot and leave that particular round of games. Lastly, a player can "check" if all bets are matched on the table.
Checking means staying in the game without betting and passing the action to the next player.
Positions
A poker table usually has between 2 to 10 players, and players have positions depending on how close or far the seat is from the designated dealer or button. In a clockwise direction, there are early positions, middle positions, and late positions.
Early position (EP)
Begins from the person at the left of the dealer, who is the small blind (SB). The next seat is the big blind (BB), and the player after that is the under the gun (UTG). The small blind and big blind have to make a bet before the first cards are dealt.
The big blind bets the current minimum bet limit and the small blind position bets half the minimum bet. Only after both blinds have bet will the dealer deal each player two hole cards in a clockwise direction starting from the small blind.
Betting will then begin anew from the UTG since the two previous players had bet before the first deal. Early positions are not considered the best positions.
Middle positions (MP)
This consists of the players after the early players, which is usually three in a nine-seat table. This is also not considered the best position but is slightly better than the early position.
Late position (LP)
This is the best position in a poker game because players here have time to note players' actions and make decisions based on that. The late position often includes the two players by the dealer's right (after the MP) and the dealer/button.
If there are two LPs before the dealer, the player immediately after the MP or two seats away by the dealer's right is the hijack, whereas the person next to the dealer is the cut-off. Positions also matter in strategy and call deals.
Positions in NJ online poker games generally move to the next person at the left after every round.
Stages
A round of NJ online poker may come in stages that may involve dealing, betting, revealing more cards, and other actions. For instance, Texas Hold 'Em has the pre-flop, flop, turn, and river stages. The pre-flop stage includes everything that happens before the first three community cards are revealed, such as blind bets and serving the starting hands (hold cards).
The flop is when the dealer deals three community cards face-up on the table. The turn is when the dealer serves the fourth community card, and the river is the fifth and final card.
A showdown happens if at least two players are still active after the river and the winner is decided with the best five cards among the hole and community cards.
Bets
A bet is adding money into a pot. Each round of poker comes with betting actions as long as there are at least two active players. A poker game begins with the blind bets from the small and big blind after which cards are dealt.
After this is the first betting round that starts from the person after the big blind and ends when bets are matched; after which the flop happens. There will also be bets after the flop, turn, and river stages. Usually, a player makes a bet for two reasons, to increase the pot if the card value is strong or as a bluff to make opponents fold.
Most New Jersey online poker sites maintain a minimum bet limit in poker, but No-Limit Texas Hold 'Em has no maximum bet limit.
Ties
A tie at showdown means that at least two players have the same hand ranking and the same value of the remaining or highest hole card, which is called a kicker. In the case of a tie on an NJ online poker site, the players will split the pot.
For instance, if the community card is 2♥ 3♠ 4♦ 5♣ 9♦ and the hole cards for player one and player two are 6♥ 9♠ and 6♣ Q♦, respectively, both players have six-high straight but the winner is player two because Queen beats nine.
Strategies
There is no magic formula in poker, but players with a good knowledge of poker mathematics and a consistent strategy make have an edge at the table. Although reading poker faces is not possible in NJ online poker, players can pick up patterns that may help in carrying the pot.
Legality
Playing real money poker online is illegal in some states. New Jersey online poker sites aren't the only available option.
As of 2022, other states in the U.S where online poker is legal incldued Nevada, Delaware, Michigan, West Virginia, and Pennsylvania.
What are the Main Differences Between Online and Live Poker?
The game of poker dates far back before technology. For instance, the "poker face" expression originates from the 1800s. However, online poker is undoubtedly gaining popularity by the day. Individuals familiar with live poker tables and rooms will see the similarities in online poker. However, some of the main differences between online and live poker include:
Game Pace : Online poker games are much faster than live poker because online players are used to playing and seeing hundreds of hands per hour. Online poker players can join several tables simultaneously, while players can only join a single table at a time.
Absence of Poker Tells : The ability to read an opponent's next move is known as poker tell. It is one of many strategies of live poker. However, online poker eliminates poker tells which makes it difficult for opponents to read one another.
Flexibility : Online poker offers players more flexibility to join tables or rooms anywhere. On the other hand, live poker players must visit the casino or club.
Player Pools : Live poker players are most times limited by geography, which means players are more likely to be from the same area. Online poker players, on the other hand, can play anywhere and do not necessarily need to be in the same area.