Gambling in Burlington County, NJ
Situated east of the Delaware River, Burlington is the largest county in New Jersey, measuring 799.29 per square mile. As of 2021, the county had an estimated population of 464,269 residents and 168,195 households.
94.3% of households in Burlington own computers, while 90.8% own computers with a broadband internet subscription.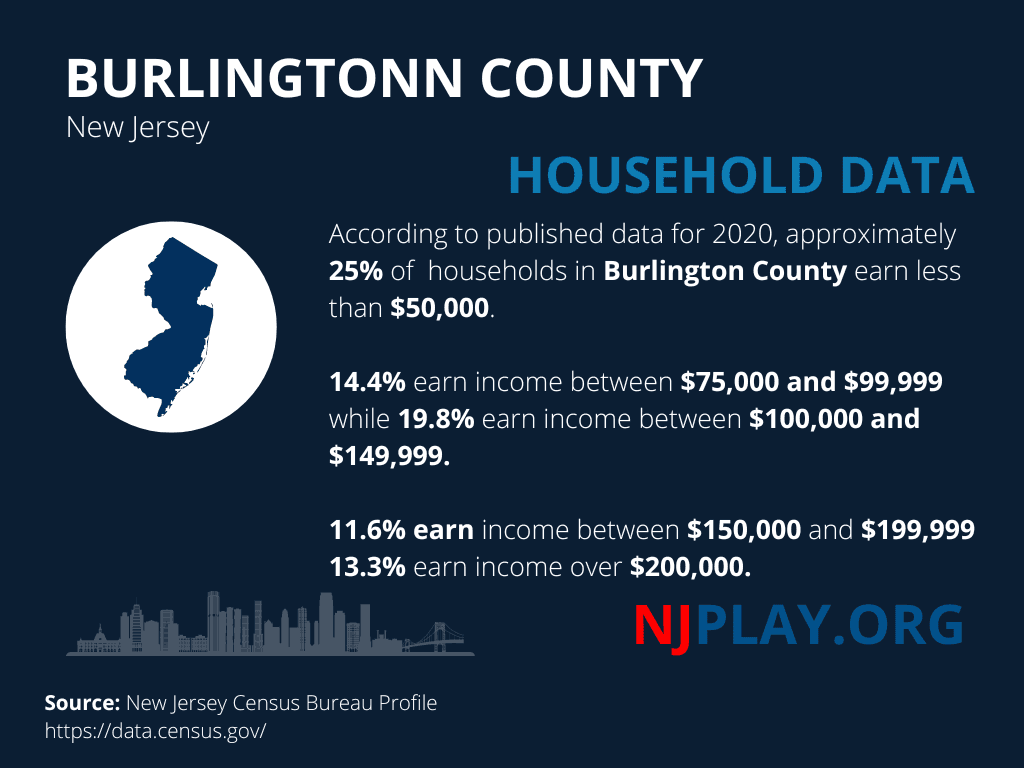 The median income per household in Burlington county was estimated at $90,329 as of 2020.
Burlington County Analysis
According to a 2017 study on internet gaming, approximately 5.7% of residents in Burlington county gamble online.
Overall, players in the county accounted for 5.0% of total online gambling activity in the state. Burlington is also one of seven counties in the Delaware River region, which houses about 22.2% of gamblers in New Jersey.
Burlington County Online Gaming Statistics
Burlington county is home to several online gambling sites. A four-year survey (2014-2017) conducted by the state of New Jersey showed significant differences in the residents' gambling preferences.
Over 75% of participants in 2017 limited their gambling to casino games, marking a 6% rise from 2014 but a little decline from 2016 (76.0%). In 2017, fewer people participated in all types of gambling, as well as casino and tournament poker.
The highest number of bets were placed from 9 p.m-3 a.m, while the highest mean wagers were recorded between 3 a.m and 6 a.m.
---
When Was Online Gambling in Burlington County Legalized?
New Jersey online gambling was legalized in 2013. As of 2022, the state has only 9 casinos, none of which is located in Burlington county. However, residents have unrestricted access to licensed online casinos and sportsbooks.
All gambling in the state is regulated by the New Jersey Casino Control Commission and the New Jersey Division of Gaming Enforcement. The New Jersey Legalized Games of Chance Control Commission is responsible for enforcing rules governing games of chance like bingo, armchair races, and raffles.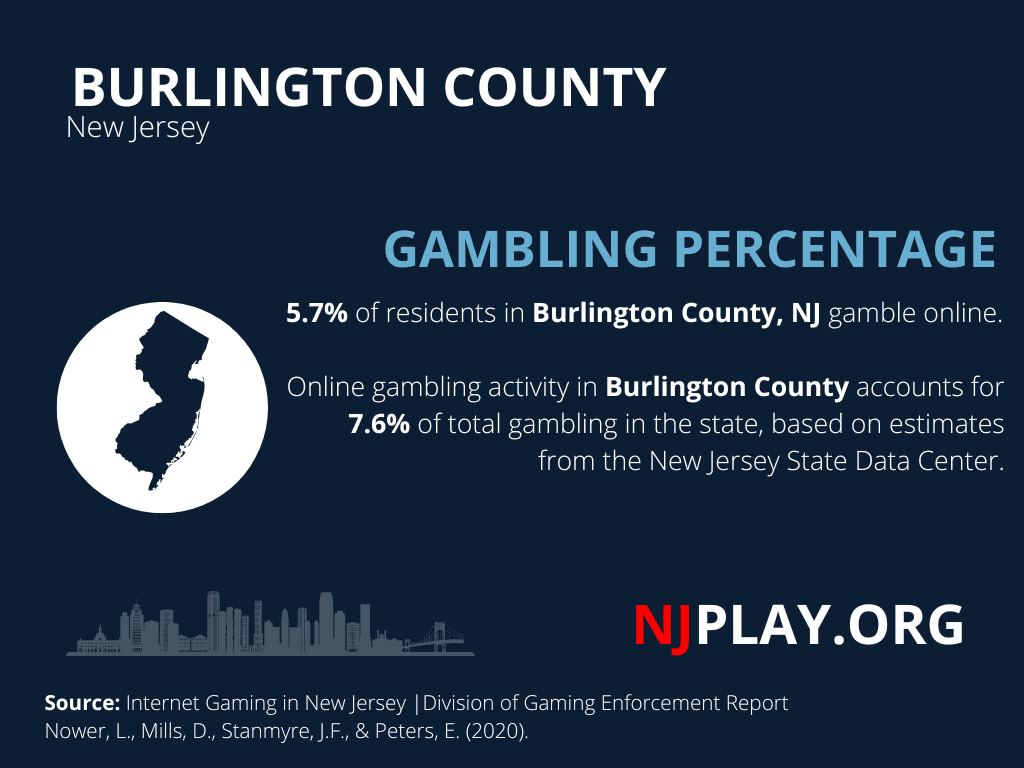 Is Online Sports Betting Legal in Burlington County, New Jersey?
Yes. Sports betting is legal in Burlington county. It was legalized in June 2018 and is also under the control of the Division of Gaming Enforcement.
The New Jersey Council on Compulsive Gambling is a non-profit organization that was formed in 1983. The aim of this organization is to render assistance to compulsive gamblers and their families.
Is Horse Betting Legal in Burlington County, New Jersey?
Yes. As of 2022, there are three racetracks in New Jersey, along with a few off-track betting (OTB) establishments. All horse betting activities are regulated by the New Jersey Racing Commission (NJRC).
Can I play Daily Fantasy Sports Contests in Burlington County, New Jersey?
Daily Fantasy Sports was legalized in 2017 in New Jersey. This means that residents of Burlington county can participate in DFS contests. The New Jersey Fantasy Sports Act was created to check the activities carried out by both DFS operators and the players.
Can I use Online Casino Apps in Burlington County, New Jersey?
Yes. Below are a few tips that will guide you in selecting the best casino apps in New Jersey:
Choose Licensed Casinos
Always search for a licensed casino. An online casino's reputation is one of the strongest indicators of its reliability and quality.
Casino games
Always consider the variety of casino games when choosing an online casino app to play, especially if you're the type of online gambler who enjoys trying your luck at a number of different gambling activities.
Review Deposit and withdrawal methods
Easy methods for depositing cash and withdrawing winnings are other qualities to look for in New Jersey online casino apps. Operators of a top-notch online casino app take steps to simplify the process of making deposits and withdrawals .
Customer service
Along with checking for customer service availability, you should also look into the caliber of the offered services. Try asking the customer care agents some questions and observe how promptly they reply, as well as how dependable and helpful their responses are.
What are some of the Best Online Gambling Sites in Burlington county?
Numerous online casinos operate in Burlington county. For instance, the top slot machines are offered by BetMGM, while Caesars Casino is a good pick if you're searching for outstanding rewards programs.
Various fantasy sports are available on DraftKings. Unibet has you covered if you're looking for fantastic live dealer games. Last but not least, 4NJBets offers an option for fans of horse racing.
---
Responsible Gambling in Burlington County, NJ
Gambling can be a fun and entertaining activity, but it's important to gamble responsibly. For some people, gambling can become an addiction.
If you have friends or loved ones in Burlington County addicted to gambling, encourage them to seek help by calling helplines or contacting the New Jersey Council on Compulsive Gambling at:
Council on Compulsive Gambling
3635 Quakerbridge Rd., Suite 7
Hamilton, NJ 08619
Tel: 609.588.5515 | Fax: 609.588.5665
If you live in Burlington County or any other part of New Jersey, reach out for support or treatment by texting or calling 800-Gambler.
County residents may also be able to get assistance by contacting the** Behavioral Health Unit** of the Burlington County Human Services Department at:
795 Woodlane Road
Westampton, NJ 08060
609-265-5800 | Fax: 609-265-1983
If you suspect you may have been a victim of fraud from an illegal gambling website, contact the Burlington County Sherrif's Department at:
49 Rancocas Road
Room G4
Mount Holly, NJ 08060
Map
609-265-5127